Welcome to Nicklaus North


Welcome to Nicklaus North in Beautiful Whistler, BC. This website section is meant to provide useful information about our neighbourhood.
From golfing to cross country skiing and float plane flights to walking the dog, any and all positive interaction is encouraged to help us all stay in tune with the neighbourhood. Our vibrant community is the only one to have a website dedicated to keeping the neighborhood informed.
Browse through the summer and winter activity pages or join us on Facebook for a more interactive experience pertaining to life in and around Nicklaus North.
There is a also a Nicklaus North Real Estate page which has current Nicklaus North property listings.
As signage is not permitted in Green Lake Estates, it can be difficult to know which properties are currently available and which have sold. I am always available to discuss the local real estate market and am happy to provide sales or listing information if you are ever curious.
Site links will enable everyone to visit Golf BC, see what is fresh at Table Nineteen Restaurant in the Nicklaus North Clubhouse or check out the cross country ski conditions around the golf course or the neighboring Lost Lake trails. Visitors to this site are encouraged contact Dave Beattie, the host to discuss blog topics. Please add this to your favorites and visit often to enjoy a new segment to living at Nicklaus North.
Nicklaus North Real Estate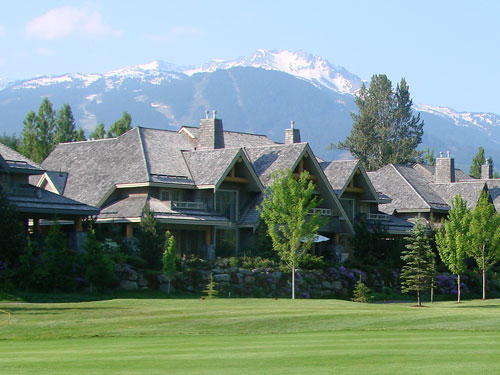 You can view all current listings on this site, or for recent sale data, simply contact Dave Beattie for more information about Nicklaus North Real Estate.
Property around Nicklaus North comes in all shapes and sizes. From a cozy lakeview condominium to a custom luxury chalet overlooking the golf course and various townhome configurations in between. One and two bedroom condominiums make up the second and third floors of the Nicklaus North Clubhouse and range in size from just under 600sq ft to just over 1,000 sq ft, while Englewood Green and Goldenwood offer even more spacious floorplans with private garages and wonderful views.
The neighborhood is quite unique in that nightly rentals are permitted in some areas which is unusual for such a community neighborhood setting. These properties have Phase 1 zoning which is often referred to as TA or Tourist Accommodation zoning. This zoning pertains to the clubhouse condominiums, Englewood and Goldenwood homes as well as single family homes or chalets on Muirfield Crescent and the even numbered-homes on Nicklaus North Boulevard.
There are 20 suites in the clubhouse, 30 townhomes in Goldenwood and 42 townhomes in Englewood. A variety of homes have been built along Nicklaus North Blvd, Muirfield Crescent and Golden Bear Place. Cypress Place is a new offering of single family lots that run beside the 4th and 5th holes of the golf course.